This month the downhamweb team was pleased to welcome Mr Richard (Dick) Maywood to Downham Market after an absence of over 70 years.
Mr Maywood, aged 93, was an RAF airman during the Second World War. He joined 608 Squadron, stationed at RAF Downham Market, in the spring of 1945. Flying as navigator, in a Mosquito bomber aircraft, he took part in the final operational mission over Germany before peace in Europe was declared on 8th May 1945.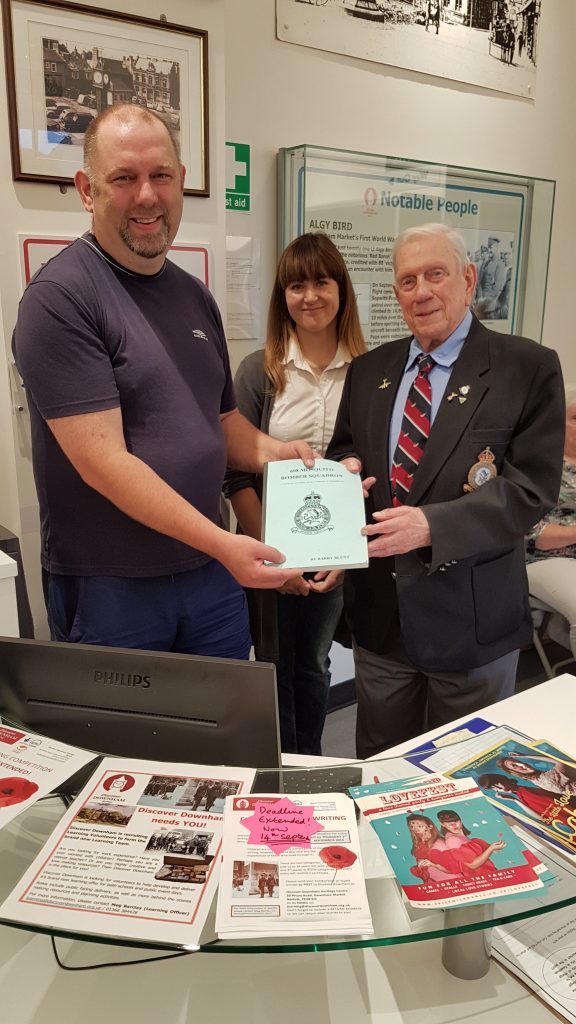 Mr Maywood retains fond memories of Downham and recalled the celebrations that took place in the town centre on VE Day.
Mr Maywood got in touch with downhamweb when he kindly offered to gift a copy of Barry Blunt's '608 Mosquito Bomber Squadron' to the Discover Downham Heritage Centre. This is an extremely limited edition publication which gives a detailed account of the squadron's activities at RAF Downham Market. The Bexwell Airfield played a very strategic role in the war and forms an important part of Downham Market's recent history.
Alongside the 608 Mosquito Bomber Squadron, RAF Downham Market was also home to 571 Squadron Mosquito, 635 Squadron Lancaster and 214, 218 & 623 Squadrons Stirling.
608 Squadron was known as the 'Light Night Striking Force' carrying out nuisance raids in order to divert enemy attention from the main force of Lancaster bombers. Mr Maywood recalled that the Mosquito could make it from Downham Market to Berlin and back again in 4.5 hours, far faster than the Lancaster or American B-17 Flying Fortress aircraft.
Mr Maywood was warmly welcomed at Discover Downham by Vicki Arnst from downhamweb and Steve Allen, Discover Downham's RAF researcher.