The weather wasn't great this morning for Town Councillors and members of the community as they practiced their rowing moves in preparation for this year's Annual Water Festival
We saw familiar faces such as Town Events Co-ordinator Sarah Mawby, Deputy Mayor Dave Sharman, Cllr John Doyle and the lads from C&M Servicing disregarding the somewhat appalling weather and getting themselves into gear in the Town Square!
Deputy Mayor Dave Sharman having a good go at it!
Cllr John Doyle rowing away with C&M Servicing taking the spectators position
The festival, which will return to the Great Ouse Relief Channel next to the Hythe Bridge for a fun packed day of events on Sunday August 5th, is absolutely free for spectators and promises to be a great day for any family, Activities on the riverbank, include stalls, arena events, a fun fair, children's activities, lots of amazing food vendors, craft and charity stalls and of course the adrenaline pumping Dragon Boat races.
You can find out more information by visiting our 'Downham Market Water Festival Feature page'. Additionally if you use twitter or facebook you can follow @DMTCWaterFest or like the Water Festival page.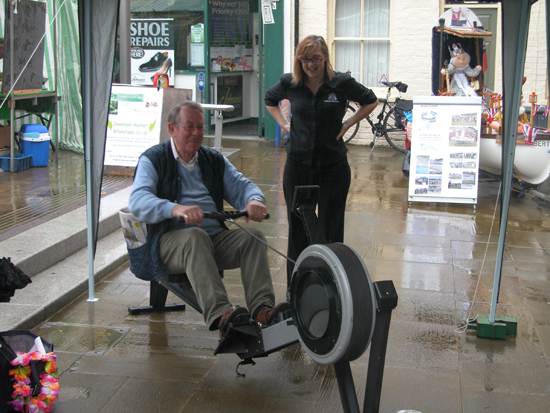 We hope to see you all rowing your way down to the Water Festival next month!