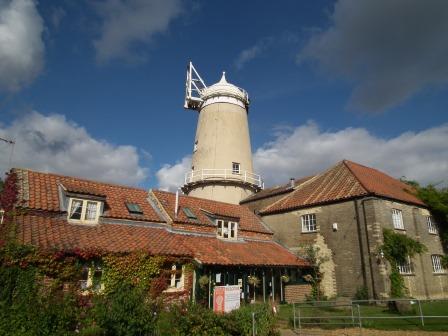 EDITED: The mill re-opened on Saturday 10th August 2013.
Information and contact details are listed on our Things to Do page.
It is probably fair to say that it has been a troubled year for Denver Windmill, until recently Norfolk's last commercially working windmill.
A breakdown in relations between the mill's owner, the Norfolk Historic Buildings Trust (NHBT), and current tenants the Abel Family, resulted in the Abels being informed that their lease of the site would not be renewed.
Rumours had been circulating that this would spell the end of Denver Windmill's role as a working windmill and tourism asset, and there were fears locally that Downham Market and Denver were on the verge of losing an important part of their cultural history.
We're pleased to report that this is not the case.
Earlier this month the NHBT announced its plans for the mill and these include a new site management team. From 1st June 2013 the Denver Mill site will be managed by local couple Samantha and Graham Styles.
Mr and Mrs Styles live locally in Denver, and Mrs Styles was Head of Confectionery Baking at Denver Mill from May 2010 until April 2012. Meanwhile Mr Styles has been running a family building business in Essex.
We're very excited" said Mrs Styles "We know there's lots of hard work ahead of us but it should be fun."
I have been lucky enough to sample some of Samantha's delicious baking at a recent meeting of the Downham Market Clandestine Cake Club, and can vouch first-hand for her cake-making credentials.
As well as remaining as a much loved local tourist attraction, Denver Windmill is now also likely to develop into a mecca for cake lovers.
Three of the Trust's Directors and its Secretary will also be working in the new management team.
The NHBT has also said publicly that it intends to restore to the Mill the sails and wind gear, which were casualties of the unexpected stress fracture of one of the steel stocks in October 2011.
The Trust has already secured £27,000 – out of an expected cost of £100,000 worth of work – and continues to pursue funding for the rest of the work.