Story written by Elizabeth Pendleton, Site Owner. For a team consisting mostly of rowing first timers, some of whom knew only of their participation on the day of the event; you could say the "Eastern Daily Pirates" put in a jolly fine performance at the 6th annual Downham Market Water Festival (aka Dragon boat racing on the relief channel) today.
It was a last minute tweet from EDP s David (Cap n) Blackmore calling for oarsmen (or women) to join his crew that caught my eye late on Saturday, and so I posted on downhamweb s facebook and twitter for help. 14 year old Kayleigh came to the call first and then, on the day of the race, Emily also joined EDP-ers Ian Burt and Daisy Wallage, Alex and Craig Kendall, Daniel Vipond, Matt Lidd and lastly but not leastly KLFM s breakfast presenter Hannah Griffiths, and with me, that made the crew of 11.
Our first race was, admittedly, a bit slow; a time of 1:18 was not what we were expecting, and would not get us in contention of any high positions, so we were all a little disappointed…but with a little land tuition, (using an umbrella for a paddle) some reshuffling of seating arrangements and a lot of tactics talked..our spirits were high and we felt we knew what we were doing now, so were chuffed when we stonked the second race with a stunning 1:05, knocking 13 seconds off our time! The third race was our final and best performance with a 1 minute dead sprint to the finish.
Our motley crew were over the moon. Despite not qualifying for the final stages, we were proud to have put in a performance to match some of the stronger teams – like the winners from British Sugar and runner ups from Cornerways. (who, it was stated by many were obviously "taking things seriously" and were in pretty good shape!)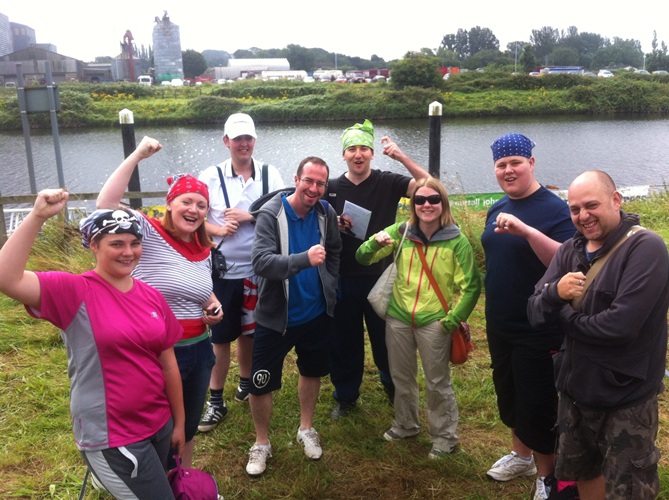 I ve attended the event for several years, taken pics and downhamweb have been advertising the 2012 event for months, but I never expected to be rowing my heart out down the relief channel and getting soaked in the process, but It was an unexpected pleasure to be on board – and one I d strongly recommend to anyone!
Traders from the town out on the usual fine stalls and displays; notable slightly *un*usual extras this year were the Heritage project (with red balloons and guess the artefact quiz) and the high energy Zumba performance – including knock out moves from downhamwebs fine Laura Harrod.
EDP have got an ace gallery online by the talented Matt Usher, check it out by clicking here! Update (10/8/12): We have now updated our Water Festival Feature page with an online gallery, thanks to Sue & Kayleigh! Check it out