Join Downham Volunteers Today!
The Downham Volunteers are a group of local people who are interested in volunteering within the Downham Market community.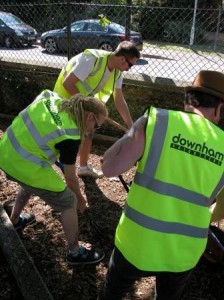 The group helps out with one-off and irregular project based volunteering opportunities. This makes it perfect for people who would like to get involved and have a positive input to their community, but might not have the time to make a regular commitment.
There is no commitment in joining Downham Volunteers.
Whenever a volunteering opportunity arises, we will get in touch (via telephone call, email, tweet, facebook or text message, whichever you prefer) with information about what is involved, when and how to join in.
Some members may choose to take part in every community project, others only once or twice a year.
Volunteers can give as much or as little time as they wish. The contribution made by everyone is valued and will help worthwhile causes throughout our community!
Join the Downham Volunteers Email List
Sign up by clicking here,or scroll down the page to read more.
---
Find out more about Downham Volunteers
What kind of opportunities are there?
There is no such thing as a typical volunteering opportunity, however the following examples will give you an idea of some of the projects we are involved in.
Helping to run a one-off sports session or other activity at the Downham Youth Centre
A morning clearing heavy snow from outside sheltered accommodation so that the elderly residents are not stuck inside during the cold weather.
Acting as a safety marshall, for a few hours, at the annual Downham Market Water Festival.
A few hours helping put up or take down the town's Christmas lights.
A couple of hours tending the Downham In Bloom floral displays.
What's in it for me?
In these difficult economic times it is more important than ever for residents to pull together and make our town a better place to live. However volunteering has many personal benefits too such as:
Getting out and meeting new people
Learning new skills
Getting a positive buzz from helping others
Adding experience to your CV that is respected by employers
Opportunities to enter training schemes
What about Insurance?
Downham Volunteers has paired up with the Downham Market Town Council to ensure that Downham Volunteers, working on officially designated volunteering activities, are covered by their Public Liability Insurance.
How do I join Downham Volunteers?
Simply click the sign up button at the top of this page and give us a few details and then you will be added to the Downham Volunteers email database. Every time a volunteering opportunity arises we will inform you about it, and you can decide whether you wish to participate or not.
Other Volunteering Opportunities in and around Downham Market
There are many community groups and charities around Downham Market and West Norfolk who rely on volunteers on a more regular basis. We have collated some of them here.
---
"I'm running a one-off event and need volunteers. Can you help?"
If you are a local organisation and would like to advertise for volunteers via 'Downham Volunteers' please contact us using our contact form with details of the volunteering opportunity. Give us as much detail as possible so we can mobilise the right volunteers to you.